Days leading up to the ending of May and throughout the month of June has been better for the Jamaican Music Industry. A record number of albums have been released with even more to come and tour opportunities increased. There has also been major development for some artistes which we are pleased to highlight in this our monthly recap of Reggae/Dancehall and other Music News throughout the month of June.
Major Label Deals Endorsement and Development for Local Dancehall Artistes
Omi
The month of June was filled with inspiring stories and development for many artistes. 17 year old Reggae/Dancehall artiste Samantha J best known for hit single, 'Tight Up Skirt' inked a major record deal with label giants, Columbia Records. According to TMZ who claimed to have obtained a copy of the deal, if Samantha sticks with Columbia throughout her 6th album she will become a very rich 17 year old earning up $1.1 million advance!
Omi, whose smash hit 'Cheerleader' is still a hot number, also inked a major deal with Ultra Music via Sony Music Entertainment. Omi's first project for the label is a remix of 'Cheerleader,' he goes on tour across Europe July 15 through to August 4. Other development with the Jamaican Dancehall Industry involves Aidonia and Bounty Killer sampling frontman for pop supergroup Black Eyed Peas and multi-faceted musician Will.i.am. 'It's Your Birthday' single. Did Mavado collab with L.L. Cool Jay? Keep watching, let's see what the month of July produces.



New 'Tifa Sig Line' Headphones
The announcement of 'Tifa Sig Line' headphones signals the accomplishment of another major endorsement for a Dancehall artiste. Tifa announced the news recently and said it involves partnering with Sound Is Genius to launch a line of headphones that will hit select stores of telecommunications giant Digicel and other electronic stores across the island. Tifa has been 'Teen Choice' four time winner of Best Female Dancehall Artiste of the Year. Recently, she also inked a record deal with North-American independent label Island King Record, founded by a team of industry professionals base in New York and Canada.
Sanchez

May 17 is officially 'Sanchez Day' Miramar Florida
Reggae singer Sanchez was honoured at Unifest for his career accomplishments and contribution to reggae music. On Saturday May 17, Commissioner Alexandra Davis on behalf of Mayor Lori Mosley and fellow commissioners of the city of Miramar, presented Kevin 'Sanchez' Jackson with a proclamation; citing May 17, 2014 as the official 'Sanchez Day' in the City of Miramar…more
Tours
Tessanne Chin Embark on Her First US Tour
The Season 5 winner of NBC The Voice, tours with past stars and this season's finalists.
Konshens
Her first stop will be at the San Antonio, Majestic Theatre and they are expected to perform in over 20 cities or 30 venues across Texas, Florida, Atlanta, Charlotte, New York City, Baltimore and Canada to name a few. The Voice Tour ends August 2. Tessanne's long awaited 'Count On My Love' album drops July 1st.

Konshens Tours Europe with Newly formed 'Di BluePrint' Band
Konshens tours Europe with his newly formed 'Di BluePrint' band and will be performing in over twenty cities. The tour has taken him across the Indian Ocean to Reunion Island, Mayotte and Mauritius and he will also perform at SummerJam, Oland Roots Reggae Festival and MUSA Festivals.
Popcaan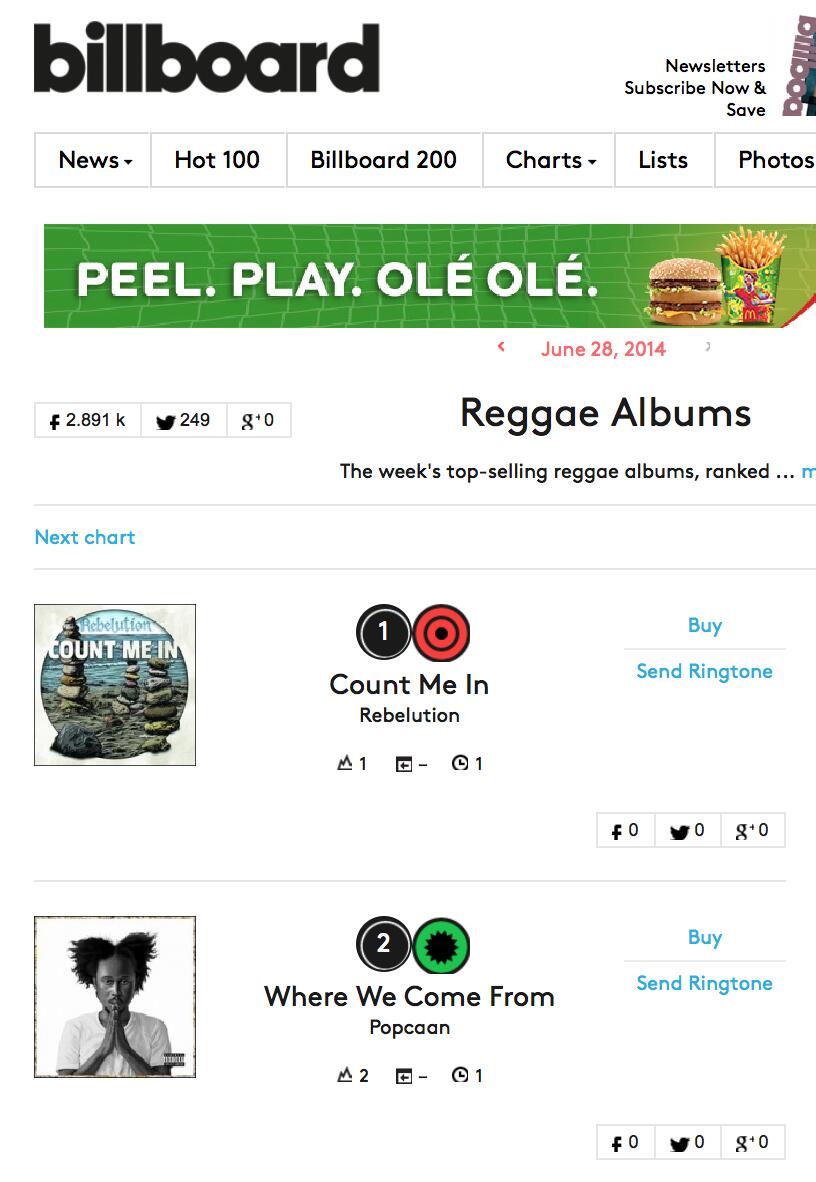 Another Billboard Hit for Dancehall
Yaaowwwww! Kudos to Popcaan whose debut album 'Where We Come From' #WWCF has hit Billboard Reggae Album Chart at #2 and the Heatseekers Album Chart at #21!



Bits 'n' Pieces (Music Business)
90 Days of Summer '90 Days 90 Ways
The Jamaican Government through the Ministry of Tourism and Entertainment have re-branded and about to launch "JamRock Summer – "90 Days 90 Ways" as part of it's initiative of pushing entertainment to attract visitors to the island.. more
Why Amazons approach to licensing could be the future of Digital music?
Even though the just-launched Amazon Music Price is receiving some criticism, it hints at a future with different types of subscription services and different prices more
Entertainment Zones Identified in Jamaica!
The Jamaican Government identified entertainment zones for future development, "the vision for Palisadoes is to have seven particular venues I hope that over time to come it might reflect what Miami Beach is" Minister Damion Crawford more
Billboard + Twitter Real-Time Chart
Billboard + Twitter Real-Time Chart records the fastest moving song on Twitter over an hour. In a Podcast on Billboard's weekly half-hour audio breakdown Billboard.com associate Jason Lipshutz and Billboard associate director of charts Keith Caulfield discuss among other news, the just-launched Billboard Twitter Real- Time charts, and why they're an essential new part of the charts world more
#NIPnews