Band portrait: Touter, Skatta, Roger, Lancelot, Ian. Circle Village wall detail
Inner Circle helped invent reggae. Now, 45 years after they started, the group is still on tour — not even a bus crash in Baton Rouge can stop them. They perform at Los Globos on Sunday; we caught up with them at their recording studios in Miami the day they left.
R
oger and Ian Lewis eating ice cream on their tour bus, 4-20-2013
The group formed in 1968 in Kingston, Jamaica, in a lush and rolling tropical paradise area at the foot of a mountain.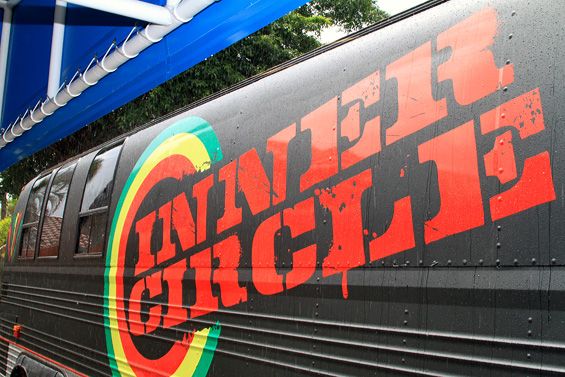 As kids, founding brothers Roger and Ian Lewis would sneak under a fence to see the Skatalites and the Dragonaires. They could hear the bass booming through the hills, at their house near the campus of the University of West Indies.
In high school they picked up guitars and found their way to Byron Lee's Dynamic Sounds Studios. At the national Jamaica Song Festival that year, they backed Eric Donaldson on "Cherry Oh Baby." Donaldson won the competition, and immediately joined Inner Circle at Dynamic Sound to record his hit. Then they toured the Caribbean and Belize with it. The song has been covered over 50 times, including by the Rolling Stones.
In 1971 they played over 150 shows on the "bandwagon tour" with Bob Marley and The Wailers and others, including Clancy Eccles, who is said to have derived the term reggae from the word "streggae" (roughly, 'easy girl').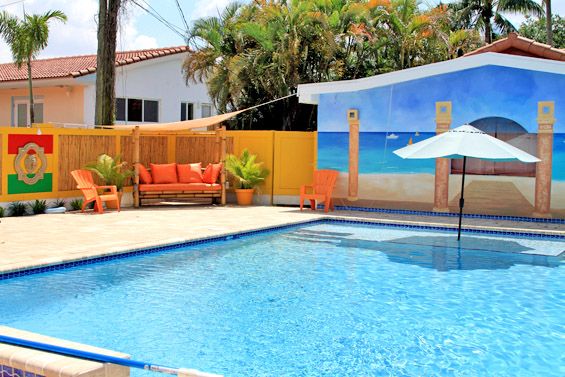 Circle Village recording compound in North Miami
The tour supported socialist Prime Minister candidate Michael Manley. He rallied votes in the slums and won the election.
Meanwhile, more and more fans started turning out to Inner Circle's concerts.
After the tour, Marley and Peter Tosh drove an Oldsmobile to Inner Circle's house on Chelsea Ave and asked them to back Bob and The Wailers on "Stir It Up" for their new album Catch A Fire.
Wall of fame detail at Circle Village, across street from Circle House
Inner Circle are the uncredited musicians on the original master tapes cut by wild tempered producer Harry J. The tapes went up to Chris Blackwell at Island who remixed the tracks, and put them on an album with a cover that opened like a zippo lighter.
Ian Lewis oversees a tire pressure check of the tour bus at the Circle Village compound in North Miami before leaving
Inner Circle also worked with studio kingpin Coxsone Dodd at Studio One, with dub pioneers King Tubby and Bunny "Striker" Lee at the Fire House, with engineering pioneer Lee "Scratch" Perry at Black Ark.
Roger Lewis with members of Coverdrive, a group from Barbados who are recording at Circle House
In 1974, fiery rasta youth Jacob Miller talked his way into the band after receiving an introduction. He energized crowds with his improvisations, and vocal tricks. He added an echo effect to his singing, and was dubbed "man with the bionic voice." He helped the band become the most in-demand act on the island.
Picture this: Jamaica, 1978. Jacob Miller is on stage with Inner Circle smoking a fat spliff of collie bud in combat boots, cut off shorts, and the officer's cap he snatched off the head of a police inspector. His fat belly bounces as he shakes his dreads and chants "Babylon, Babylon falling down!" Then he runs across the stage and exhales another smokey cloud before returning the cop his property. "Give the government his hat," he says, "I'm sure he's gonna get fired."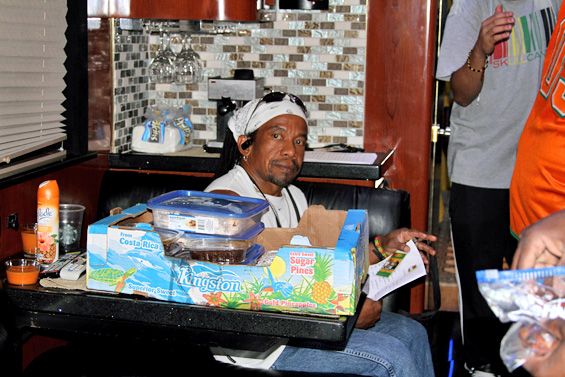 Drummer Lancelot Hall joined Inner Circle in 1986 for their Black Roses album and is still riding with them
From 1974-80 they recorded albums for Top Ranking, Trojan, Capitol, and Island Records, coming up with original songs plus American R&B, funk, rock, and disco covers. They also recruited longtime cohort Bernard "Touter" Harvey full time. He'd been playing piano, keys and organ for Bob Marley, and Burning Spear among others.
In 1978, at a show dubbed the "Peace Concert" in Jamaica's National Stadium, Jacob Miller spontaneously invited the baddest thugs of the rival gangs of West Kingston's Trench Town and Tivoli Gardens, Claude Massop and Bucky Marshall, onto the stage and brought them together for a truce.
Ian and Inner Circle Manager Lourdes Hersh on the bus
After Inner Circle's set, which was caught on film for the movie Heartland Reggae, Peter Tosh performed, and then Bob Marley.
Inspired by Miller's bravado and in a friendly act of competitive one-upmanship, Marley invited the leaders of the rival political parties, Edward Seaga and Michael Manley, onto the stage. He got them to lock and raise their hands at the height of his set during the song "Jammin'." This moment is often referred to as one of the more historic in Marley's career.
After Jacob Miller's death, Ian Lewis and keys player Touter Harvey moved to Miami and opened Circle House's recording studios, where Uncle Luke cut early 2 Live Crew hits, and filmed music videos by the pool.
Fatman Riddim Section, Roger and Ian Lewis