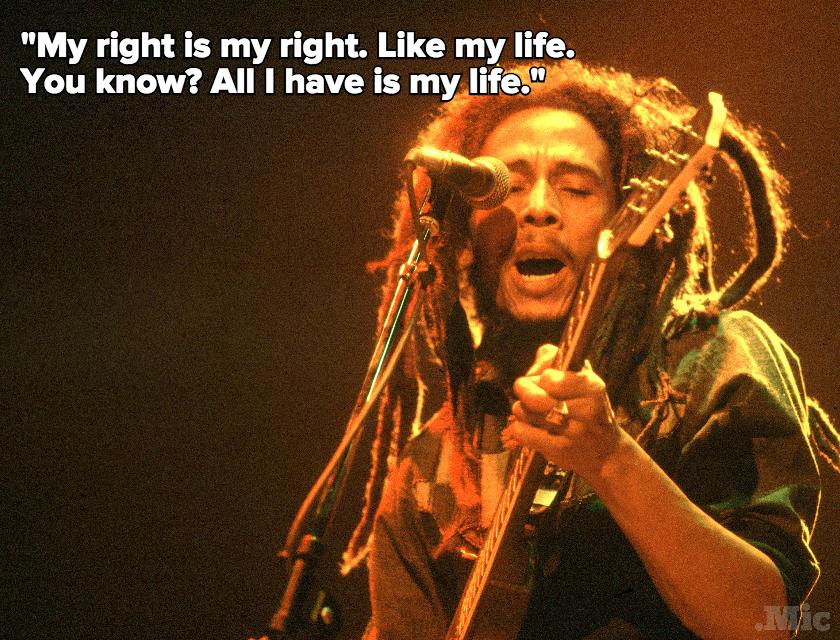 Written by: Tom Barnes

When Bob Marley was buried a week and a half after his death on May 11, 1981, he was laid to rest with three items in his casket, a red Gibson Les Paul guitar, a bible opened to Psalm 23 and a stalk of marijuana.That trinity sums up much of the legacy Marley left behind – the spiritual wholeness, the celebration of marijuana and the faith in music to bring us together. Marley's death day is all the more tragic today 34 years later, not a single musician has managed to take up his revolutionary legacy. No one has been able to create music as universally evocative and politically incisive as Marley's. No one has become an international symbol for liberation and peace to the same degree as Marley has. And at no time have we needed him more.

Marleys birth and death days are observed around the world – his birthday is even a national holiday in Jamaica. His music is also an integral part of New Zealand's independence celebration, Waitangi Day. Often though, the man they celebrate is very different than the stoner legend lionize in the West.

"In the U.S. and U.K. Bob Marley may have been taken up by the middle class as a slightly 'right on' symbol but, in developing countries he is sincerely considered a voice of protest and righteousness, "Chris Salewicz" author of Bob Marley: The Untold Story, told Quartz earlier this year. "After all, in China you don't really hear Bruce Springsteen, but you will hear the songs of Bob Marley."

"Me a rebel, man." That's why it's important to remember Marley as he really was. The vast majority of Marley's music was radical and politically uncompromising, stretching far beyond the reductive stone version in the Western popular conception.

His main targets were the Western capitalist system and the decay caused by greed and exploitation. He described the conditions for people in the world's worst ghettos on songs like "Concrete Jungle" and "Johnny Was." He enumerated the realities of racism on tracks like "War." "Until the philosophy which holds one race superior and another inferior is finally and permanently, discredited and abandoned, everywhere is war" Marley sang, paraphrasing a speech given by former Ethiopian emperor Haile Selassie.

Out of the injustices he saw, Marley offered ways to channel frustration and rage into productive action. "Emancipate yourself from mental slavery, none but ourselves can free our minds," he told the world over the sunny strumming of "Redemption Song."

True Activism: Marley backed his music with real political action: In 1976 he played at a tense politically motivated, two days earlier. Nearly 18 months later, he returned to Jamaica and forced representatives from two violently opposed political parties to join hands with him and promise peace.

In 1980, he played at an independence day celebration in Zimbabwe, creating a spirit of resillience in a crowd that had earlier engaged in a violent conflict with police.

When asked by a New Zealand interviewer if "dabbling in politics" was a good idea considering the mortal risks that often followed his activism, Marley responded, "You say dabble in politics? I don't know what that is. You say dabble in politics? I don't know what that is. You say stand up and talk fi [sic] my rights? I know that is. See? And I don't care who the guy is….because my right is my right. Like my life. You know? All I have is my life."

A legend: Bob Marley was a true musical revolutionary. He fought for causes that inflamed passions and divided opinion – not simply playing "political" rallies dedicated to causes no one in their right mind would would disagree with.

In the process, Marley helped turn reggae into a "soundtrack for political dissent," as Carolyn Cooper, professor at the University of the West Indies, explained to Fox News Latino.

"He spoke to the oppressed and the downtrodden," Don Letts, a filmmaker who knew Marley in the 70s, told Quarts. "In other words, he still speaks to 90% of the planet. Bob's messages are more important now than they ever were. For every one of those middle-class white guys or girls playing "One Love,' there are a million more around the world who are playing 'Get Up, Stand Up.'

Reggae doesn't have the same urgent visibility it once did. Our next global political revolutionary will likely come from hip-hop, which shares reggae's ability to provide a voice for the oppressed and it is currently pushing music into bold new sonic territory. We have many artists with the potential to be that voice. But before they try, they best look at Marley's life and legacy for instruction.

#NIPnews
Source: Music.Mic
Tom Barnes is a Staff Writer for Mic.com's music section. A graduate of NYU, he's worked brief stints with Columbia Records and Miracle Music. He believes the mind needs music like the body needs food and water and he always feels the thirst.